The Art of Entertaining
The last Saturday in October Joseph and I were invited to an intimate Halloween party by a creative, artistic couple Lydia and Will, who are years younger than we are. Upon arrival we were shown around their charming post-war bungalow with great enthusiasm.  They have great taste, and the four of us share a love of all things vintage. As we made our way back to their kitchen, we were greeted by a lovely bar that they had set up for their guests. I immediately noticed the small details that indicated special effort had been made to make guests feel welcome—a lovely array of cocktail glasses were arranged on a silver tray, drink recipes (in an appropriately scary font) were posted, an attractive cloth tablecloth covered the table where tasty cocktail accompaniments were artfully arranged. Throughout the evening Lydia and Will attended to their guests; hot appetizers were passed at regular intervals throughout the evening as guests mingled and danced. Perhaps it was because I was contemplating this blog, but Saturday I was more aware than usual that this was a young couple who truly knew how to entertain.
Unfortunately, over the past few years I have, on more than one occasion, asked myself, "Is the art of entertaining dead?" I have attended far too many events where a sleeve of red solo cups is carelessly thrown on a table alongside of a bag of Doritos; those infractions are minor in comparison to the feeling I have gotten from some of my hosts and hostesses that having guests is a huge inconvenience.  I suppose I have a possibly over-romanticized version of entertaining from my 1960's and 70's childhood. When my parents had parties, my mom bought special food that we did not typically eat, used her best table linens, polished her silver trays, and hauled out my dad's very special NFL low ball glasses and a set of mid-century high ball glasses in a nifty carrier that they had received as a wedding gift. Even if it was subliminal she wanted their guests to know that some special effort had gone into having them over–any inconvenience was her pleasure.
I guess my true "yardstick" of entertaining really comes from my paternal grandparents.  I distinctly remember near-legendary cocktail parties, dinner parties, bridge parties, luncheons, crab feasts, oyster roasts, shad plankings, and church picnics that they hosted in their home (which happens to be next door to Riverwood Cottage where Joseph and I live now).  Yes, for formal parties my grandmother had her treasured cutwork table cloths meticulously ironed, her Kirk Steiff silver was polished, and her best china was used, but the energy and fun of all parties went far beyond the trappings. There was always more than enough food and drink to feed and quench the thirst of an army, and like Lydia and Will, my grandparents truly enjoyed opening their home to their guests. When my grandfather passed away at 90, the funeral director, in his calm funeral director demeanor, pulled me aside and recounted memories of the outstanding engagement party my grandparents had thrown (complete with lobsters flown in from Maine) for him and his wife 50 plus years earlier! What a fabulous legacy!   Because of their enthusiasm for sharing their home and good times with others, my grandparents created memories that lasted a lifetime, and even after their deaths these memories had become a source of comfort to me.  That is the art of entertaining! Give your guests your best, and create memories that last.
When Joseph and I have parties, we probably enjoy the planning and preparation more than the average hosts. We spend a great deal of time thinking about what food we will serve, what music we will play, what drinks we will mix among many other details. Our main goal is to always try to make our guests feel special and create a memorable time for them.  We always use glass cocktail and wine glasses, real plates, and silverware simply because we like to. We prepare and purchase an abundance of food (this is a genetic trait we inherited from both of our mothers who always make sure they have more than enough food anytime someone steps into their homes!) We like to place our food offerings throughout the party – not in just one location. Joseph always creates a fabulous playlist and dancing typically ensues. (My mom gave us a tea towel that aptly states "Our Kitchen is for Dancing!"—because it is!) Of course, we have plenty of beverages—usually a "fun" signature drink and wine but also plenty of water and sodas.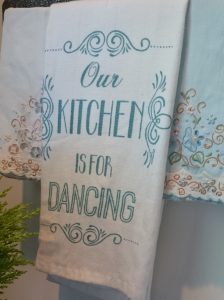 The art of entertaining goes beyond "real" glasses and plates, tablecloths, floral arrangements, and an abundance of food and drink. It is really about the joy of planning and then sharing time with people.
Hints to bring the art of entertaining back to your next event:
·        Pay attention to details and your guests will notice! The small things matter!
·        Go to your local thrift store and buy some great vintage glasses (or buy some from our Etsy shop https://www.etsy.com/shop/RiverwoodCottage?ref=hdr_shop_menu ). If one gets broken, it is truly no big deal!
·        Serve your guests on real dishes—the ones you received for your wedding or a set of white plates you purchased at Dollar Tree! It is kind to the earth and real plates are not flimsy like disposable ones!
·        Give thought to the presentation of your food and drinks—It might sound trite but as every chef on the Food Network says, "We eat with our eyes first!" It's true! Think about color and your serving pieces! Be creative!
·        Buy fun cocktail napkins—have plenty around for your guests.
·        Play fantastic music—use Spotify (or some other online option) or play some great old vinyl.  Music is a MUST!
·        Provide abundant food, drinks, and ice. Nothing is worse than running out of food, drink, or ICE!
·        Think about your guests and how they will enjoy your party—for a sunny summer party have extra sunglasses (they can be from the Dollar Store) in a basket, provide bug spray wipes, and paper fans. For a winter party, build a cozy fire or serve a warm beverage!
  Above all plan to have an amazing time—enjoy being a guest at your own party!